That's a phrase I honestly never expected to write in my lifetime.
I've been a Cubs fan since my Dad took me to my first game. I was probably about four years old, they played Cincinnati, I fell asleep but he woke me in time for the seventh inning stretches. My Dad was a true baseball fan — he said it was important to stand for both teams, out of respect. So stretches, plural. I don't know if the Cubs won or lost, but I'm quite sure they finished the season in the "second division", a term used to describe the bottom four of the eight teams. The Cubs always finished in the second division. (For the record, they were in the second division every season from 1947 to 1966.)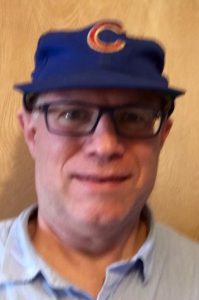 Now they're in the World Series, against the Cleveland Indians, for all the marbles.
I laughed when I saw an article talking about the "drought" of the fans of the Indians and the Cubs. Let's be real. The last time the Indians WON the World Series was a mere 68 years ago. The last time the Cubs were IN the Series was 71 years ago, and they lost. The last time the Cubs won the Series was 108 years ago. The last time the Indians were in the Series was 1997. That's less than 20 years ago.
Cubs fans know about droughts. By comparison, the Indians have had a summer without rain.
If you want to talk about a baseball drought comparable to the Cubs', you have to look to the Boston Red Sox. They won pennants with some degree of regularity, their longest gaps being 1918-1946 (28 years) and 1946-1967 (21 years). So their fans at least tasted the Series fairly often. But the championship ring was another matter. From 1918 to 2003, nothing, a span of 85 years.
Then came 2004, and the title. And they've done it twice since. Good for them. 86 years qualifies as a drought. 108 years qualifies as a drought. 48 years, not so much.
And can we bow our heads in silent praise of Theo Epstein?
It was Theo Epstein who broke the Red Sox' drought. And now he is poised to do the impossible a second time, with the Cubs.
There have been those in the past who cited Branch Rickey as the greatest baseball genius of all time. Now there can really be no doubt. That title belongs solely to Theo Epstein. And he is young and hungry, like his Cubs. I look forward to the years ahead.